Information for Accepted Students
Information for Accepted Students
Prepping for Penn State
MyPennState provides accepted students with many resources for making a college choice, as well as the important materials regarding your offer of admission.
Accept your offer of admission and pay your acceptance fees online
Submit your housing contract, if applicable
Register for an Accepted Student Program
Receive timely information about financial aid
Review information about your offered campus and academic college
Summer Programs
Penn State offers unique summer programs for first-year students. Whether you were accepted for summer session and take classes at University Park or wish to participate in a shorter orientation program for fall credit, Penn State provides you the following options:
Learning Edge Academic Program (LEAP):

This limited program for first-year students in the summer session is a great introduction to Penn State. Note: Students with a fall offer of admission to University Park may participate in LEAP but need to contact our office to change their offer from fall to summer.

AURORA Outdoor Orientation Programs:

Choose from three different orientation programs – ORION, URSA, or VEGA – with options in backpacking and community service. These programs provide first-year students with amazing experiences that are excellent preparation for the upcoming school year.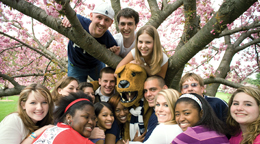 Accepted Student Programs
Students with an offer can learn more about the Penn State experience by attending one of our Accepted Student Programs. Penn State hosts programs both on-campus and out-of-state that feature staff and alumni to answer your questions.
Receptions at University Park for accepted students

Visits include student aid and academic college information, conversations with students, campus tours, and lunch.

Receptions for students accepted at other Penn State campuses

Each Penn State campus has sessions for first-year students who have been offered admission. Details of those programs vary.

Regional receptions for accepted students

Accepted students who cannot travel to a campus may attend regional receptions in Pennsylvania and around the country. These receptions are an excellent opportunity to talk with alumni and students about Penn State.
Accepted Student Chats
If you have an offer of admission, you can join us for one of our accepted student chats – the perfect way to talk about the Penn State experience with current students and counselors and to get answers to any questions you still might have as you make your college choice.